Text Blaze: A Text Expander with ChatGPT Templates (Review)
Do you find yourself typing out every email from scratch? It's time to stop doing that. Meet Text Blaze – a text-expanding tool that can help boost your productivity and get rid of the repetitive task of typing out the same words over and over again.
What is a Text Expander?
If you're unfamiliar with text-expanding tools, let me explain. In a nutshell, they are tools that let you make short abbreviations or shortcuts that will automatically expand into longer phrases or sentences as you type. This can be a huge time-saver and boost productivity since you don't have to keep typing the same words or phrases over and over again.
Example:
If you set the shortcut /ty to be expanded into "Thank You," every time you type /ty it will automatically be replaced with "Thank You."
Text Blaze's Features
Text Blaze is a text-expanding tool that comes with a range of features to help users save time and increase their productivity.
As of now, Text Blaze can be used either as a Windows application or as a Google Chrome extension.
Some of its key features include:
1. Smart fields
Text Blaze can automatically fill in fields with personalized information such as your name, email address, and date. This saves you the time and effort of having to enter this information manually.
Here's an example of creating a shortcut that displays the current date in Text Blaze.
2. Dynamic content
With Text Blaze, you can create templates with placeholders that dynamically generate content based on user input. This is especially useful for tasks such as creating personalized emails or filling out forms.
3. Snippet sharing
You can share your Text Blaze snippets with others, allowing you to collaborate on web documents and templates easily.
4. Multi-language support
Text Blaze supports multiple languages, allowing users to create and expand text snippets in their preferred language.
5. Customizable settings
You can customize various settings in Text Blaze, such as the trigger for expanding a snippet and the text format of expanded text.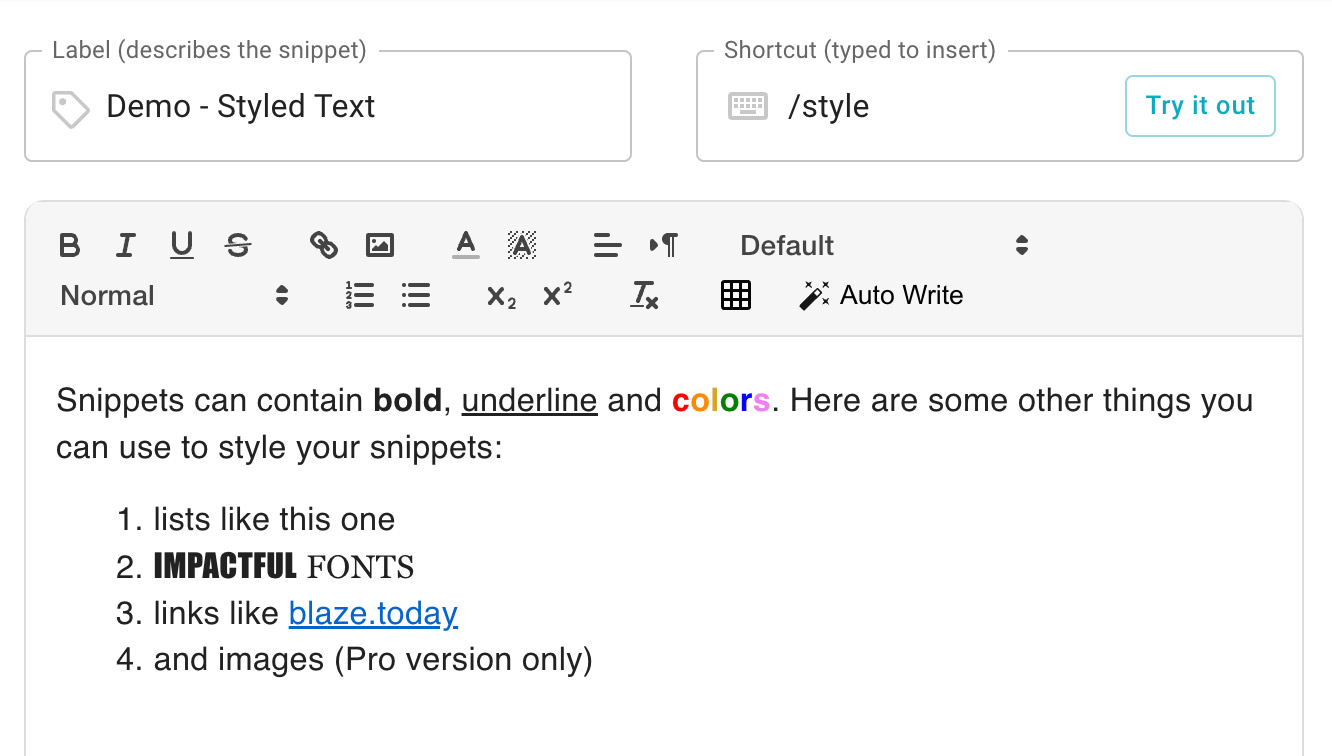 6. Gallery of Snippets
One of the standout features of Text Blaze is its library of pre-made snippets. The library – which they call the Gallery – contains a vast collection of snippets that are already prepared and organized into various categories. These categories include education, sales, recruiting, and more, making it easy to find and use relevant snippets.
7. Generative AI
If you can't find what you are looking for in the gallery, how about creating one on your own with the help of generative AI? Text Blaze's "Auto Write" feature allows you to enter a prompt and it will generate the template for you.
Example:
If you want to create an invitation to a birthday party but don't know how to write it, you can click on the "Auto Write" button in Text Blaze, type in the prompt "Invitation to my birthday party," and click "Write it!" It will then create a template for the invitation with placeholders that you can fill in right away.
Check out the video below to see how it works.
Text Blaze's Price
Let's discuss Text Blaze's pricing. Four plans are available: Basic, Pro, Business, and Enterprise.
The free Basic plan enables you to create 20 snippets, with a limit of 2500 characters per snippet. This plan allows you to experiment with forms and other dynamic features without charge, giving you the opportunity to test the service before deciding to upgrade to the Pro plan or other available plans.
Let me explain the Pro and Business plans in more detail:
Pro plan:
Costs $2.99 per month
Allows you to create up to 1000 snippets
Offers more options for sharing your snippets compared to the free plan
Supports full-form functionality
ets you include images in your snippets
Business plan:
Costs $6.99 per month
Allows you to create up to 4000 snippets
Gives you unlimited options for sharing your snippets
Supports full-form functionality
Lets you include images in your snippets
Allows you to create different versions of your snippets
Offers team collaboration functionality.
Pros, Cons, and Final Thoughts
After using this tool for a while, I'd like to share my thoughts on it. But first, let me give you my opinion on some of its pros and cons.
PROS
Saves time by eliminating repetitive typing.
A large library of pre-made snippets.
Includes dynamic content and smart fields.
Offers customizable settings.
Offers different pricing plans to fit different needs.
CONS
Free plan has limited functionality.
Its plugin is currently limited to only Google Chrome.
Lack of native app for macOS.
It's clear that this tool can save users a significant amount of time and effort in their daily workflow. With its intuitive interface and customizable features, Blaze makes it easy for users to automate repetitive tasks and increase their productivity.
The software's cloud-syncing capability also makes it a great choice for remote teams and individuals who need to access their expanded text from anywhere.
Overall, Blaze is a powerful and user-friendly tool that can benefit anyone looking to streamline their workflow and boost their productivity. With its extensive range of features and affordable pricing, it's a great choice for anyone in need of a text-expanding tool, especially when it comes to working on browser.